---
SUBSCRIBE to stay inspired and informed. Receive the weekly word, quote, statistic and update straight to your inbox. Read on to see what you've missed!
April 28, 2016: Words have Power. Read up.
WEEKLY STATISTIC
58% of black youth are prosecuted as adults and sentenced to adult prisons, compared to only 6% of white youth.
WORD OF THE WEEK
HYPODESCENT: The practice of labeling a child of mixed-race ancestry as the race of his or her more socially subordinate parent, grandparent or even great-grandparent; Mixed-race children in slave societies are assigned the status of their non-Caucasian ancestors; Also known as the "one-drop rule."
NELSON MANDELA'S WORDS HAVE POWER
"There is no passion to be found playing small – in settling for a life that is less than the one you are capable of living."
"For to be free is not merely to cast off one's chains, but to live in a way that respects and enhances the freedom of others."
"There is no easy walk to freedom anywhere, and many of us will have to pass through the valley of the shadow of death again and again before we reach the mountaintop of our desires."
WHAT IS FREEDOM DAY?
April 27 is Freedom Day, the South African Public Holiday celebrating the very first post-apartheid elections held on April 27, 1994. Apartheid was a system of segregation that labeled people as White, Indian, Colored, or Black. From 1948 to 1993, these "races" had unequal access to housing, employment, education and public facilities.
Mandela led the fight against apartheid. He was demonized as a terrorist and sentenced to life imprisonment. During his 27 years in jail, Mandela was not allowed to read or write. Each year, he was only allowed to write two letters, and have one 30-minute visitor. Mandela defied this injustice, using his unwavering dignity to win the respect of his fellow prisoners and even the most cruel prison guards. He organized hunger strikes and an elaborate network of secretly written messages. By secretly communicating with activists and politicians, Mandela won his own freedom, the freedom of South Africa, and his right to lead South Africa. In the first "free" and democratic election, on April 27, 1994, Nelson Mandela was voted into Presidency. Words have power. Read up!
---
April 22, 2016: Celebrate Earth Day!
WEEKLY STATISTIC
The poverty rate for children living with a single parent is 44%.
WORD OF THE WEEK
INVETERATE (adj): Stubbornly established by habit.
WORDS HAVE POWER
"Don't waste a single second. Just move forward as fast as you can, and go for it."Rebecca Woodcock
"Do not wait for leaders; do it alone, person to person. Be faithful in small things because it is in them that your strength lies." Mother Teresa
"Define success on your own terms, achieve it by your own rules, and build a life you're proud to live." Anne Sweeney
In 1970, the public was unaware or unconcerned with environmental damage. There were no restrictions on car, agriculture or industry pollution. This was just starting to change after Rachel Carson's 1962 bestseller, Silent Spring, rose public awareness of the the link between human activity and planetary health.
U.S. Senator, Gaylord Nelson, saw how the student anti-Vietnam movement inspired public outrage and political attention. He wanted to create a similar movement for environmental protection. He recruited 85 people to promote events across the country. April 22 was chosen because it fell between Spring Break and Final Exams. On April 22, 1970, his 85 recruits inspired 20 million Americans to demonstrate at thousands of campuses.  While preexisting groups had been fighting separately against oil spills, factory and power plant pollution, raw sewage, toxic dumps, pesticides, freeways, deforestation, and wildlife extinction, Earth Day unified them for the first time into a single environmental protection cause. Happy celebrating!
---
April 14, 2016: In Honor of Emancipation Day
WEEKLY STATISTIC
13% of all male students receive special education services.
WORD OF THE WEEK
ZUGZANGA: A position in which any decision or move will result in a problem.
WORDS HAVE POWER
"One's philosophy is not best expressed in words; it is expressed in the choices one makes… and the choices we make are ultimately our responsibility." Eleanor Roosevelt
"If one is lucky, a solitary fantasy can totally transform one million realities." Maya Angelou
"Leadership should be more participative than directive, more enabling than performing."Mary D. Poole
IN HONOR OF EMANCIPATION DAY
On April 16, 1862, Abraham Lincoln signed the Emancipation Act, which freed more than 3000 slaves in Washington D.C. But slavery did not end in the rest of the United States until after the Civil War, in 1865, when the 13th Amendment formally ended slavery. Only 151 years later, slavery and the racial divisions upon which it was based continue to have huge implications for individuals and American society as a whole.
---
April 7, 2016: When you shop online, you can donate books for free!
WEEKLY STATISTIC
22% of American students (5-17 years old) speak a language other than English at home.
WORD OF THE WEEK
RECUMBENTIBUS: A knockout punch, with words or with a fist.
WORDS HAVE POWER
"The book to read is not the one that thinks for you, but the one which makes you think."Harper Lee
"When nothing is sure, everything is possible." Margaret Drabble
"Better to be without logic than without feeling." Charlotte Bronte
ACTIVITY UPDATE
As we look forward to the upcoming school year, we are excited to plan another book shipment to our 50 day care partners. But we need your help! Donate below and use
smile.amazon.com
for your spring shopping! 
When you do, a portion of your purchase will be used to buy books for kids!
Spread the word. Give more children a quality education and an equal opportunity to succeed.
---
March 31, 2016: Happy Cesar Chavez Day!
WEEKLY STATISTIC
11% of American children do not have parents with a high school diploma or GED.
WORD OF THE WEEK
JETTATURA: The casting of an evil eye..or dirty look.
IN HONOR OF WOMEN'S HISTORY MONTH…
WOMEN'S WORDS HAVE POWER
"Never limit yourself because of others' limited imagination. Never limited others because of your own limited imagination." Mae Jemison
"The beginning is always today." Mary Shelley
"You are extraordinary within your limits, but your limits are extraordinary." Gertrude Stein
MARCH 31 = CESAR CHAVES DAY!
During the Depression, Chavez's family lost their large farm and became migrant workers. They often went without food and clean water. Chavez wanted a peaceful way to help migrant field workers so he started a union called the National Farm Workers Association. At first, only his family members joined. No one believed it could work. They had tried it before and they were scared. Slowly, the union grew and they held a strike against grape growers. Cesar and 67 workers marched 340 miles to Sacramento, California. Thousands of workers joined him along the way. In the end, the grape growers signed a contract offering higher wages and better work conditions. Cesar continued to use nonviolent methods to secure rights. At one point he fasted for 36 days. When he died in his sleep at 66 years old, over 50,000 people attended his funeral.
---
March 24, 2016: Why the Baskets, Bunnies and Jelly Beans?
WEEKLY STATISTIC
42% of African American students attend high-poverty schools.
WORD OF THE WEEK
INFANDOUS: Unspeakable or too odious to be expressed or mentioned.
IN HONOR OF WOMEN'S HISTORY MONTH…
WOMEN'S WORDS HAVE POWER
"Women, like men, should try to do the impossible. And when they fail, their failure should be a challenge to others." Amelia Earhart
"The way we talk to our children becomes their inner voice." Peggy Omara
"I am always busy, which is perhaps the chief reason why I am always well."
Elizabeth Cady Stanton 
"One cannot accomplish anything without fanaticism." Eva Peron
WHY THE EASTER BUNNIES, JELLY BEANS, BASKETS & PARADES?
Rabbits and eggs are both ancient symbols of fertility and new life. They were both used in Pagan festivals to celebrate Spring. In the 13th century, eggs were forbidden during Lent so people would decorate them to celebrate the end of the period of fasting. In the 1700s, German immigrants brought their tradition of an egg-laying hare to Pennsylvania. Children made nests for the hare to lay its eggs. Eventually, the custom spread. Baskets replaced nests, and chocolate eggs and egg-shaped jelly beans replaced real eggs.
Some people believe the egg rolling tradition symbolizes the stone blocking Jesus' tomb being rolled away. The Easter Parade tradition began in New York City in the mid-1800s, when the upper crust of society would attend Fifth Avenue churches then stroll outside afterward, showing off their Easter outfits and hats.
---
March 17, 2016: Happy St. Patrick's Day!
WEEKLY STATISTIC
With desperately few opportunities for legal sources of income, 1 in 4 African-American male dropouts will end up in jail.
WORD OF THE WEEK
GORGONIZE: To have a paralyzing or mesmerizing effect on someone.
IN HONOR OF WOMEN'S HISTORY MONTH…
WOMEN'S WORDS HAVE POWER
"If somebody can do something 80% as good as you think you would have done it yourself, then you've got to let it go." Sara Blakely
"I never dreamed about success. I worked for it." Estée Lauder
"Money gives men the power to run the show. It gives men the power to define value. They define what's desirable. And men define what's feminine. We need to reshape our own perception of how we view ourselves. We have to step up as women and take the lead." Beyonce 
IF HE DIDN'T DRIVE SNAKES OUT OF IRELAND, WHAT DID HE DRIVE OUT?
St. Patrick wasn't Irish. At 16, he was kidnapped from England and sent to Ireland as a slave to tend sheep. After seven years, he escaped on a pirate ship back home.
He became a priest only to go back to Ireland to convert the Irish to Christianity. Despite being beaten and harassed by thugs and royalty alike, he refused to quit. This is why he was eventually honored as the patron saint of Ireland. We wear the shamrock on St. Patrick's Day because he used its three leaves to explain the holy trinity to potential converts.
Another St. Patrick myth is that he banished snakes from Ireland. While no snakes exist in Ireland today, they never did. The myth originated with snakes as a metaphor for evil; Saying St. Patrick drove the snakes out of Ireland is the same as saying he drove the evil out. In this case, "evil" meant pagan (non-Christian) beliefs.
Irish-American immigrants began the "modern" St. Patrick celebrations to show solidarity during the Revolutionary war. They continued the tradition in the 19th century to show Irish pride in the face of widespread discrimination. Words have power! Enjoy celebrating!
---
March 10, 2016: Happy Women's History Month!
AMERICAN MEN & WOMEN HAVE EQUAL RIGHTS?
According to the global gender gap report…

The U.S. ranks 72nd out of 136 countries for women's political empowerment, behind Zimbabwe, Ethiopia, India, and Uganda.
64h for female health and survival.
40h for educational attainment.

Women represent  50.8% of the U.S. population and only 18.5% of congress.

In 2014 alone, state legislatures introduced over 468 restrictions on female bodies and zero for men.

1 in 3 women have experienced sexual violence.
While women earn 60% of all Undergraduate and Master's Degrees, they make up 45% of staff at Fortune 500 companies, 25% of managerial and executive positions, and only 4.6% of CEO positions.
Only 15% of film and TV protagonists, and only 30% of all speaking roles are women.
WORD OF THE WEEK
ULTRACREPIDARIAN: A person who gives opinions and advice on matters outside of one's knowledge.
WORDS HAVE POWER
"Everything on the earth has a purpose, every disease an herb to cure it, and every person a mission. This is the Indian theory of existence." Mourning Dove
"You cannot get through a single day without having an impact on the world around you. What you do makes a difference, and you have to decide what kind of difference you want to make." Jane Goodall
"Because I am female, I am expected to aspire to marriage. I am expected to make my life choices, always keeping in mind that marriage is the most important. Now, marriage can be a source of joy and love and mutual support, but why do we teach girls to aspire to marriage and we don't teach boys the same?" Chimamanda Ngozi Adichie
"We are not interested in the possibilities of defeat; they do not exist." Queen Victoria
WOMEN PUSHED OUT OF MATH & SCIENCE? THINK AGAIN.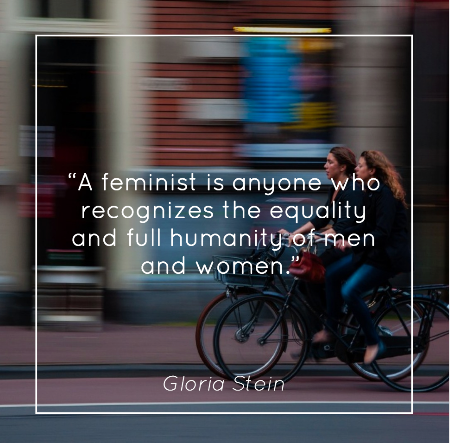 We often talk about why less women pursue math and science. We don't talk about why men avoid English-related fields. Maybe men are the real victims in this scenario.
When I taught Special Education, every year was the same; I had a classroom full of boys with just 1 or 2 girls. Nationally, boys with learning disabilities outnumber girls three to one. Why?
During infancy, the left hemisphere (language center) of girl's brains develops before the right; the opposite is true for boys. For this reason, most 2 year old girl 's have double the vocabulary of boys. Girls start school 1-2 years ahead of boys in reading and writing. By the time boys catch up, teachers have already labeled them as "slow" learners, in need of special education. Since boys believe they are "bad" readers, they avoid it in favor of math and science. Meanwhile, girls are praised for their ability, pursue reading and creative writing in their free time, and continue to outshine their male peers.
---
March 3, 2016: Happy Birthday Dr. Seuss!
SPREAD THE WORD
Financial stress has understandable yet devastating effects on how parents talk to kids: By 4, kids in poverty hear 125,000 more words of discouragement than encouragement. Kids in wealthy homes hear 560,000 more words of encouragement.
WORD OF THE WEEK
HARMATIA: A tragic hero's character flaw or error that leads to his downfall.
DR. SUESS QUOTES
"Today I shall behave, as if this is the day I will be remembered."
"I'm afraid sometimes you'll play lonely games too, games you can't win because you'll play against you….I have heard there are troubles of more than one kind. Some come from ahead and some come from behind. But I've bought a big bat. I'm all ready you see. Now my troubles are going to have troubles with me."
"In the places I go there are things that I see that I never could spell if I stopped with the Z…There's no limit to how much you'll know, depending how far beyond zebra you go."
HOW DID "SEUSS" GET HIS START?
Theodore Seuss Giesel was born on March 2, 1904. When he was a college student at Dartmouth, he got caught drinking in the dorms during Prohibition. He was kicked off the school's humor magazine, but continued contributing under the pseudonym, Seuss.
Seuss used this penname as a cartoonist for various magazines and advertising departments. His advertisements for the insecticide, FLIT (containing DDT), became nationally famous, which led to an offer to illustrate children's books. This inspired his own book, And to Think that I Saw it on Mulberry Street. It was rejected 27 times before it was published in 1937.
He didn't become the icon he is today until 1954. After LIFE magazine wrote an article about children's increasingly low reading levels (the rise of the word gap?), Seuss wrote a book with all 220 Dolch site words (the most commonly used words for early readers). The book? The Cat in the Hat. Over his lifetime, Seuss wrote over 60 books.
---
February 26, 2016: Why do We Celebrate Birthdays?
SPREAD THE WORD
From grades 1 – 3, low-income students learn 2 words a day while high-income students learn 8 new words every day.
WORD OF THE WEEK
VERNALAGNIA: A romantic mood brought on by Spring.
WORDS HAVE POWER
"Grit is pushing beyond the platitudes, and finding authentic connections that will encourage you to embrace discomfort and embark on a journey that always seeks to push you outside the box." Chrissanne Long
"Grit is knowing who you are and where you are headed, moving determinedly forward with eyes fixed on the mark, rather than the obstacles that lie in wait." Christine Bisch
"You must live in the present, launch yourself on every wave, find your eternity in each moment." Henry David Thoreau
WHY DO WE CELEBRATE BIRTHDAYS?
The first written record of a birthday was in 3,000 B.C.E. The day an Egyptian pharaoh was crowned, it was celebrated as the Pharaoh's "birth" as a god.
The Greeks copied the idea to celebrate their gods. They invented the birthday cake to celebrate the lunar goddess, Artemis.  The round cake covered in candles recreated the radiance of the moon.
The Romans were the first to 
celebrate birthdays for 
"common" people. Yet, women's birthdays were not celebrated until the 1300s.
February 18, 2016: Word Rebel & Garfield Partnership!
SPREAD THE WORD
High school dropouts are 63 times more likely to be imprisoned than college graduates.
WORD OF THE WEEK
YONDERLY: Mentally or emotionally distant; Absent-minded.
WORDS HAVE POWER
"Your destiny is to fulfill those things upon which you focus most intently. So choose to keep your focus on that which is truly magnificent, beautiful, uplifting and joyful. Your life is always moving toward something." Ralph Marston
"The greatest weapon against stress is our ability to choose one thought over another."William James
"Our life is as meaningful, as full and as wonderful as we choose to make it." Richard Dawkins
HISTORY & MYTH OF VALENTINE'S DAY
ACTIVITY UPDATE
Word Rebel is excited to partner with Nellie Edge and Garfield in order to provide the best possible e-books in our weekly parent email. The creator of Garfield Comics, Jim Davis, founded the Professor Garfield Foundation in order to deliver free digital learning content to improve children's literacy and creative expression. Jim shared with us that he started the Foundation after receiving thousands of letters from parents telling him how valuable the strip was in teaching their children to read, because of the visual clues and sequencing skills associated with comics. We are excited to join forces to provide Garfield comics to Word Rebel families!
---
February 11, 2016: Happy Valentine's Day!
SPREAD THE WORD
On a typical day, a 4-year-old living in poverty hears 616 words a day, while a 4-year-old with professional parents hears 2,153 words.
WORD OF THE WEEK
FANFARONADE: Swaggering; empty boasting; blustering manner or behavior; ostentatious display.
WORDS HAVE POWER
"Today I choose life. Every morning when I wake up I can choose joy, happiness, negativity, pain…To feel the freedom that comes from being able to continue to make mistakes and choices – today I choose to feel life, not to deny my humanity but embrace it." Kevyn Aucoin
"I, not events, have the power to make me happy or unhappy today. I can choose which it shall be. Yesterday is dead, tomorrow hasn't arrived yet. I have just one day, today, and I'm going to be happy in it." Groucho Marx
"Bad things do happen; how I respond to them defines my character and the quality of my life. I can choose to sit in perpetual sadness, immobilized by the gravity of my loss, or I can choose to rise from the pain and treasure the most precious gift I have – life itself."Walter Anderson
HISTORY & MYTH OF VALENTINE'S DAY
Two legends about St. Valentine sparked our holiday. First, St. Valentine was martyred for love when he defied Emperor Claudius II for outlawing marriage (because single men made better soldiers than husbands and fathers). Second, when St. Valentine was imprisoned for helping other prisoners escape torture, he fell in love with the jailor's daughter, and sent a love letter signed, "From your Valentine." Whichever myth is true, it is agreed that Valentine was a romantic and sympathetic martyr who sacrificed for the good of others. Maybe we should all do the same this Valentine's Day.
Valentine's Day is thought to fall on the anniversary of St. Valentine's death as well as a pagan fertility celebration. The reason we wear red may date back to the belief that it was a sign of good luck (and fertility) for a women to be touched by the sacrificial blood of the ritual. Every man also picked one woman's name to be his match for the year. These pairings often ended in marriage.
February 4, 2016: Celebrate Black History Month!
SPREAD THE WORD
Nation-wide, the graduation rate for white students is 16% higher than for black students.
WORD OF THE WEEK
BLATHERSKITE (noun): A person who talks at great length without making much sense.
WORDS HAVE POWER
"Don't let the noise of others' opinions drown out your own inner voice." Steve Jobs
"Don't let other people's opinions distort your reality. Be true to yourself. Be bold in pursuing your dreams. Be unapologetically you!" Dr. Steve Maraboli
"Don't take anything personally. Nothing others do is because of you. What others say and do is a projection of their own reality, their own dream." Don Miguel Ruiz
THE FIRST AFRICAN AMERICAN NOVELIST
The first novel written by an African-American was by a free woman, Harriet Wilson, in 1859. Her novel was a realistic story about a young African-American girl, working as a free house keeper in the North. She lived in conditions similar to a "house slave" and was treated with disrespect and racism. Novels about slaves, written by white abolitionists, and nonfiction slave narratives were both popular at the time. But Harriet's novel was ignored. She received no credit for her history-making achievement. Why? White abolitionists were against slavery in the South, but they were not in support of racial equality. Since Wilson exposed northern racism, her novel was ignored until 1982.
---
January 28, 2016: Celebrate Fun at Work Day!
SPREAD THE WORD
52.3% of people are unhappy at work.
WORD OF THE WEEK
ABSQUATULATE (verb): To flee; To leave abruptly.
WORDS HAVE POWER
"Everyone has been made for some particular work, and the desire for that work has been put in every heart." Rumi
"I have looked in the mirror every morning and asked myself: 'If today were the last day of my life, would I want to do what I am about to do today?' And whenever the answer has been 'No' for too many days in a row, I know I need to change something." Steve Jobs
"When you are inspired by some great purpose, some extraordinary project, all your thoughts break their bounds. Your mind transcends limitations, your consciousness expands in every direction and you find yourself in a new, great and wonderful world. Dormant forces, faculties and talents become alive, and you discover yourself to be a greater person by far than you ever dreamed yourself to be." Patanjali
ACTIVITY UPDATE
As we look forward to the 2016-2017 school year, we are excited to raise funds to donate an assortment of $3 children's classics to all of our participating day cares. We cannot wait until August to deliver the following books: The Cat in the Hat; Goodnight Moon; Amelia Bedelia; Little Bear; Richard Scarry; Fox in Socks; Go, Dog, Go!; Blueberries for Sal; Green Eggs and Ham; Hop on Pop; etc.